If you are a company that has instituted the agile project management approach to your business, you have most likely heard about Atlassian's Jira. Jira is a top-rated agile project management tool companies use to support tracking agile projects, tasks, bugs, and more. While Jira is a popular choice today, it isn't the only choice, and it also might not be the best fit for your business.
There are alternatives on the market today that come with additional benefits that Jira does not have. These benefits range from lower costs to usability, time tracking, automation, flexibility, comprehensive issue tracking, and many integration capabilities that can increase collaboration internally or internally. So, if you are thinking of trying Jira, or maybe you want a Jira alternative, the five options we discuss below will give Jira a run for its money.
Jira Alternatives For Agile Project Management
Agile is a great methodology, but it is not without its own set of challenges. For example, one challenge with agile is tracking progress and ensuring that everyone on the team – from developers to stakeholders – is updated. This is where choosing the right project management tool is critical.
A good project management system will help automate the agile process and provide your business with better insights into how your projects are proceeding and what potential issues or bottlenecks may arise down the line. Since one of the core tenants of the agile approach is breaking down large single-launch projects into smaller, more manageable increments, having a project management system to track these smaller goals and "scrums" is vital to the success of using the agile methodology.
As technology and methodologies have changed, so too has the competition in the market for agile trackers. While Jira might be one of the oldest and most well-known agile trackers for developers, it is not the only agile project management software on the market you can use. Let's look at the top Jira alternatives with just as many robust features (and lower price-tags) and can actually get the job done.
1. Hive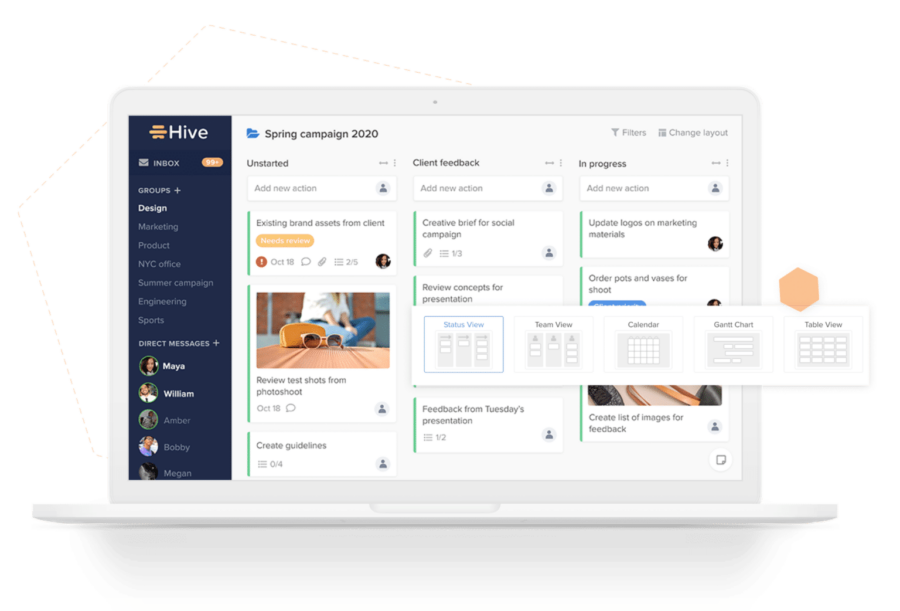 Hive is the world's first democratic project management software platform. This means that it was built by the users for the users. As a result, much of its core functionality was created from feedback from its users, making it a highly adaptive platform that is sensitive to the needs of its audience. Hive has all of the robust project management functionality of Jira, with the addition of useful collaboration and meeting features that take your team's productivity to the next level.
While Hive offers 6 different project layouts, its Kanban project view makes it a great agile project management tool, as they help visualize task progress and keep everyone informed in real time. Teams can also use time-tracking to assign time estimates to individual tasks, which is very helpful for sprint planning and determining feasible next steps.
What Hive offers that Jira doesn't:
Flexible project layouts let you toggle between 6 different views, with just one click
Native email, with the ability to turn any email into a task
Proofing and approvals
Native chat for ultimate team collaboration
Note-taking tool with meeting and calendar integrations
Price: One of the benefits of using Hive is its low cost. Hive Free is free forever for up to 10 users, making it an excellent option for small businesses or startups who are just starting and don't have the budget for Jira or most other tools on the market. For Hive Teams, pricing begins at $12/mo with custom prices for larger enterprises. Check out Hive's full pricing information here.

2. Asana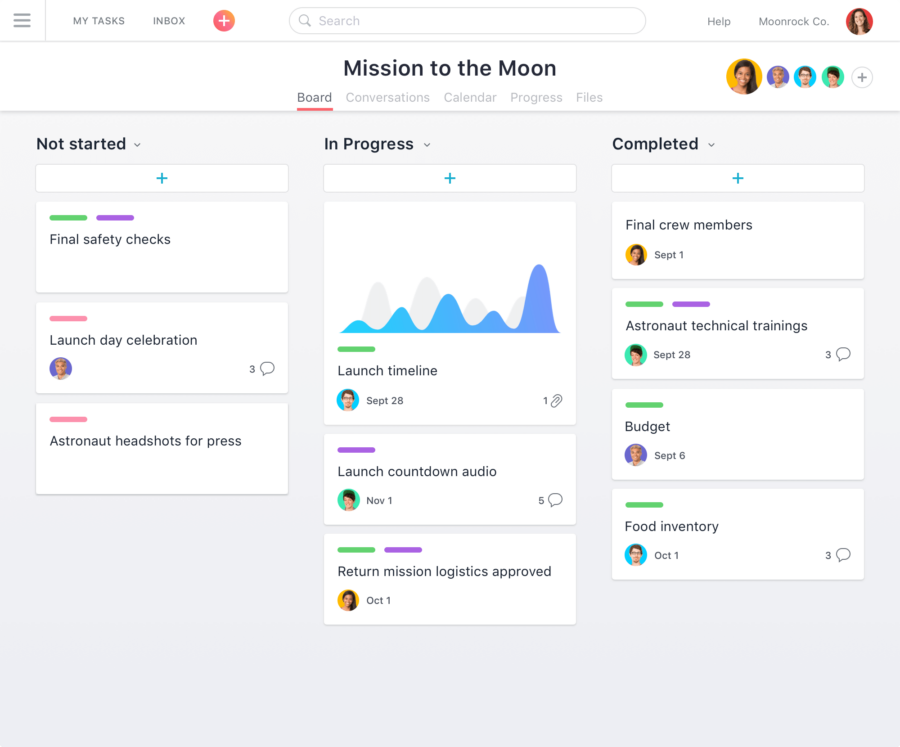 Asana is a project management software that helps teams track their work and progress on various projects. With Asana, you can create to-do lists, assign tasks to team members, set deadlines, and add files or notes – all in one place.
Like Hive, Asana offers a variety of integrations with other applications such as Google Drive, Dropbox, and Slack. These integrations make it easier to collaborate and keep all communication and work in one place. Additionally, Asana has integrated time-tracking and kanban boards, making it an attractive, agile tracking option.
Price: Asana offers a free and paid version depending on your agile needs. The free version is excellent for individuals or teams starting out, while the paid version offers more features and starts at $10.99/month and goes up to $24.99/month for larger businesses.
3. Pivotal Tracker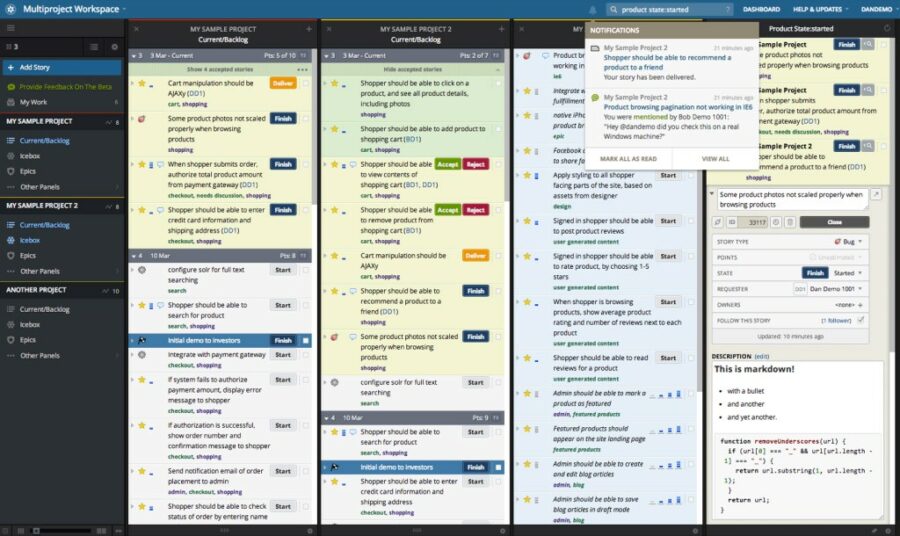 Pivotal Tracker is a project management software that helps teams plan, track, and release their work. With Pivotal Tracker, you can create stories and tasks, prioritize them, and assign them to team members. Pivotal Tracker also allows you to set deadlines and add files or notes – all in one location.
Pivotal Tracker works very well as an agile development tracker. It has a user-friendly UX design, and its use of "tracking stories" is unique to the platform. These stories keep projects organized and moving forward even when the agile process moves items around when priorities shift. Additionally, Pivotal Tracker also comes preloaded with project templates that can be used each time you create a new project, reducing the time it takes to set up and start.
Price: Pivotal Tracker offers a free and paid version depending on your agile needs. The free version is excellent for small businesses or startups with more limited needs, while the paid version offers more features and starts at $10/month and goes up to custom prices for larger enterprises.
4. Miro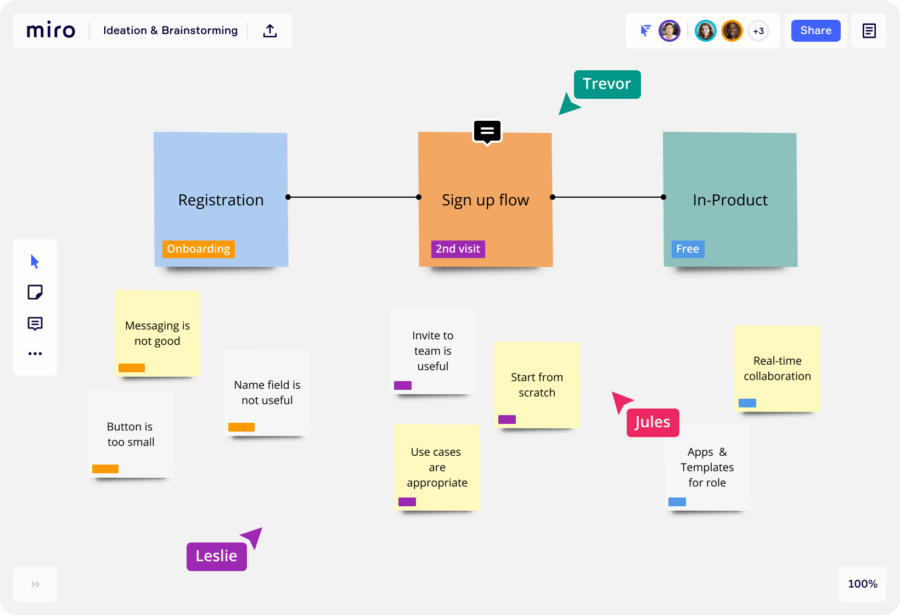 Miro is a project management software that bills itself as the "online whiteboard" for team collaboration. With Miro, you can visually create boards and mind maps, add sticky notes and images, and assign tasks to team members – all in one user-friendly whiteboard.
Miro shines in its flexibility, as it can be used for various projects ranging from agile development scrum use to website design to event planning. With hundreds of available templates and a highly-involved community to contribute, Miro is a great user-friendly software solution for companies who want to track their tasks visually and maintain a solid cross-communication network with team members.
Price: Miro offers a free and paid version depending on your agile needs. The free version includes unlimited members for anyone getting started with the program, while the paid version offers more features and starts at $8/month and goes up to custom prices for larger enterprises.
5. Aha!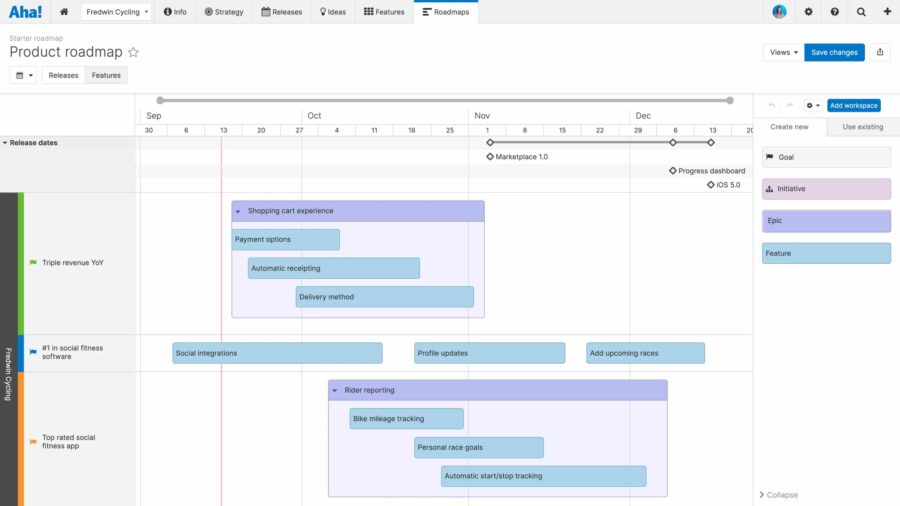 Aha! is a road mapping software that helps teams plan and track their work. With Aha!, you can create roadmaps, release plans, and features – all within the software. Aha! is excellent at strategy building for your team, allowing your business to define goals and track long and short-term business goals you need to grow. Whether you want to scale up new clients who will help fuel your business' growth, or simply meet a deadline while deploying new software, Aha can help you meet those goals.
While the interface is less flashy than other options, it is still a compelling agile tracker. Offering a fully customizable agile process tracker, Aha! has all the available tools for businesses to comprehensively view their teams' work and track various projects and tasks.
Price: Aha! has three separate pricing tiers: Roadmaps/Ideas/Develop. Each of these specific tiers offers unique tools from Aha!, but the Develop tier is specific to agile. This tier starts at $8/month and goes up to custom prices for larger enterprises.
6. nTask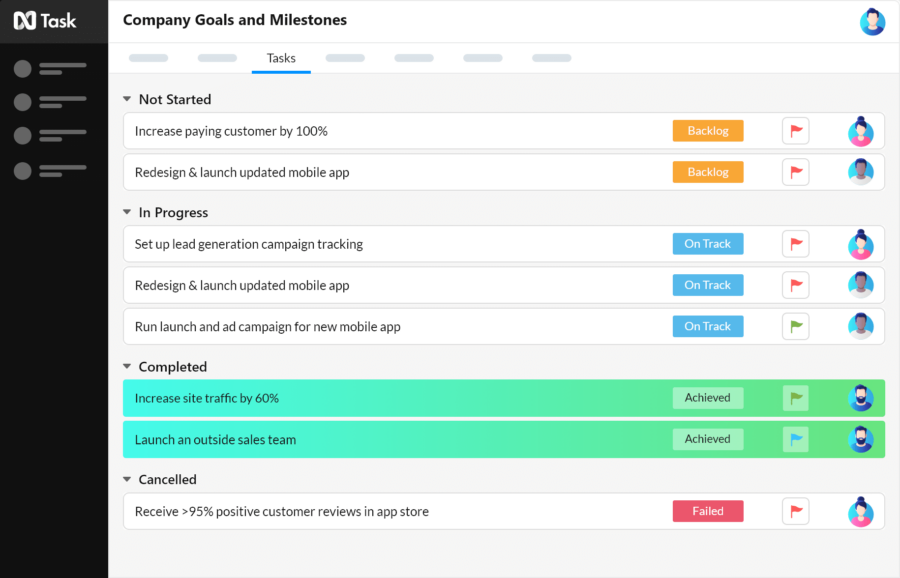 nTask is a Jira alternative project and task management software for teams of all sizes. The interface of the application is intuitive and easy-to-use facilitating the onboarding of new users.
The tool also offers time tracking, team management, risk management, bug tracking, issue management, Gantt charting and Kanban boarding, among many others. The platform offers a free trial, so you can test it before making a decision.
Price: nTask does not have a free plan, and their subscription plans start at $3/month. nTask offers a free 7-day trial.
7. ProofHub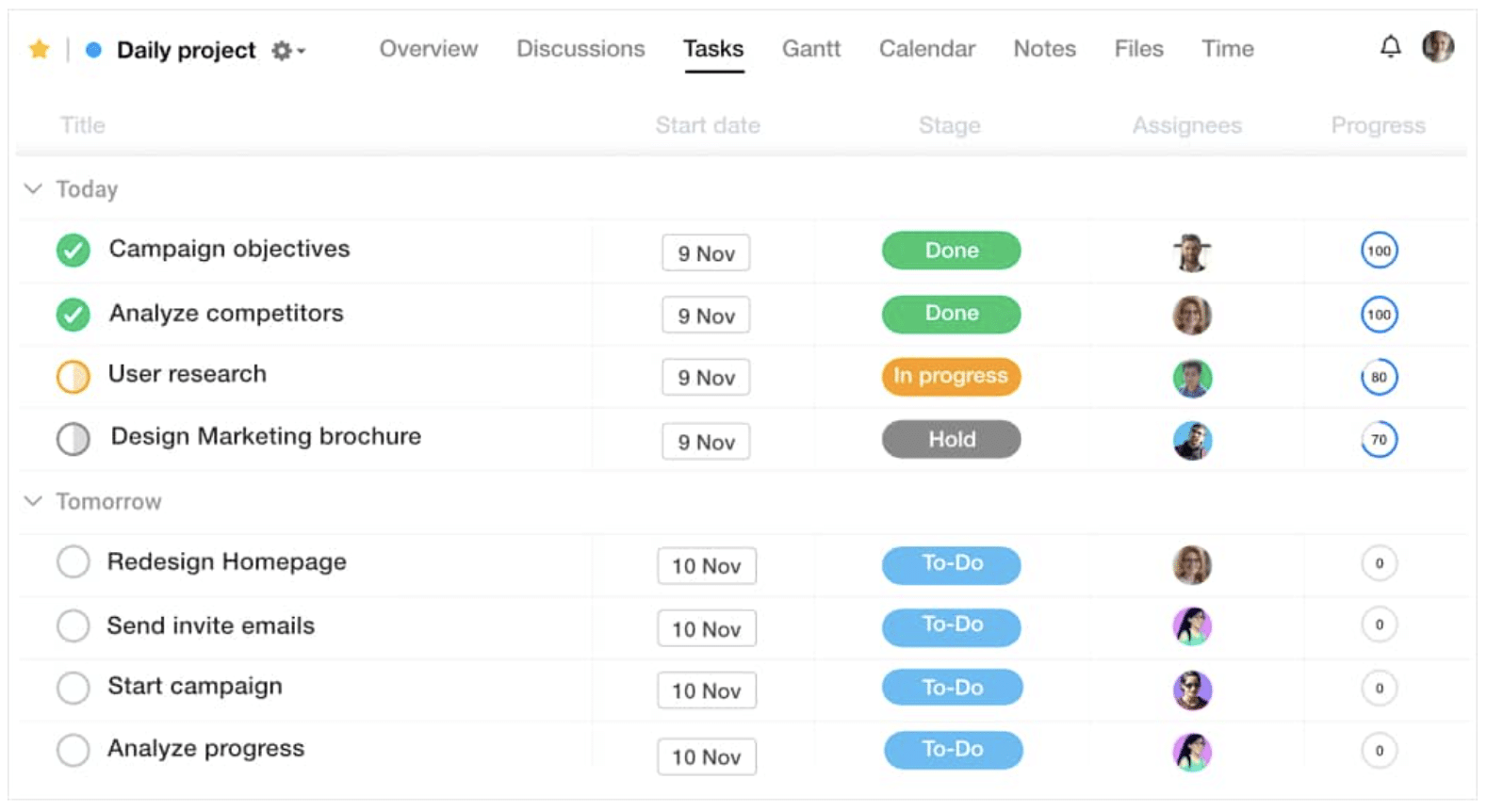 From easy-to-use dashboard, multiple layout views and insightful reports, ProofHub is a project management software with great capability to be a Jira alternative. ProofHub allows real-time discussions with clients and teams, eliminating long email threads. Its flexible layout offers calendar, table, kanban board, and Gantt charts views. You can bring files and documents to the platform removing scattered and missing files from your workflow. Additionally, ProofHub interface is available in English, French, Polish, Portuguese, Spanish, Chinese (Taiwan), Dutch, Turkish, and German. The tool has different plan pricing according to team sizes.
Price: ProofHub doesn't offer a free plan, but a free trial. Their Essential plan starts at $45 month/billed monthly and supports up to 40 projects for unlimited users.
8. Backlog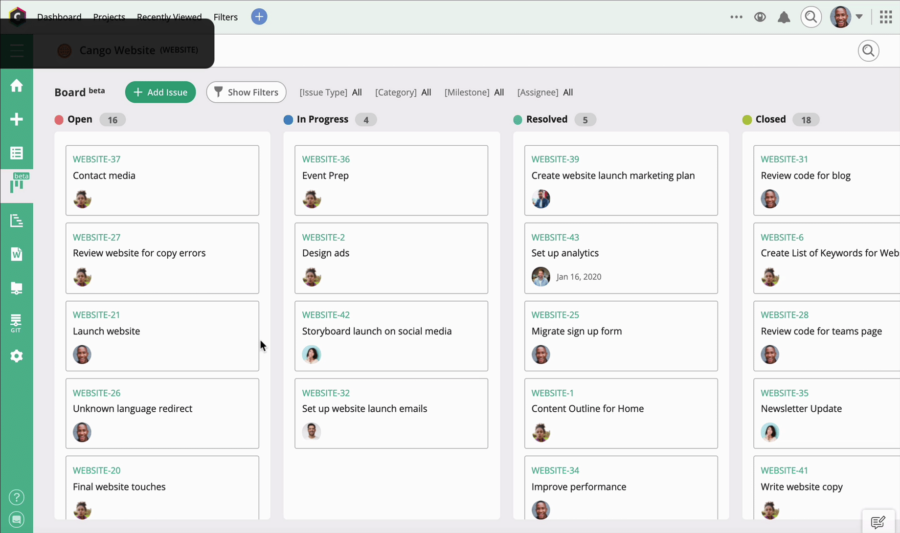 Backlog is an alternative to Jira with a simple yet powerful interface. Developers, clients, designers, and other teams can easily be connected to the platform from anywhere with a wifi connection. With Backlog you can have an overview of your project and tasks whether using Gantt charts, burndown charts, or Kanban-style boards. 
Backlog also allows you to host your code securely in the cloud with private repositories. The solution gives you a clear view of who's working on which branch, review others' work, and track changes. If you are just learning how to code and looking for programming assignment help, the platform has resources and blogs with more information.
Price: Backlog offers a free and paid plan. Their free plan includes 10 users, one project and up to 100 MB of storage. Starter package starts at $35/month.
9. ClickUp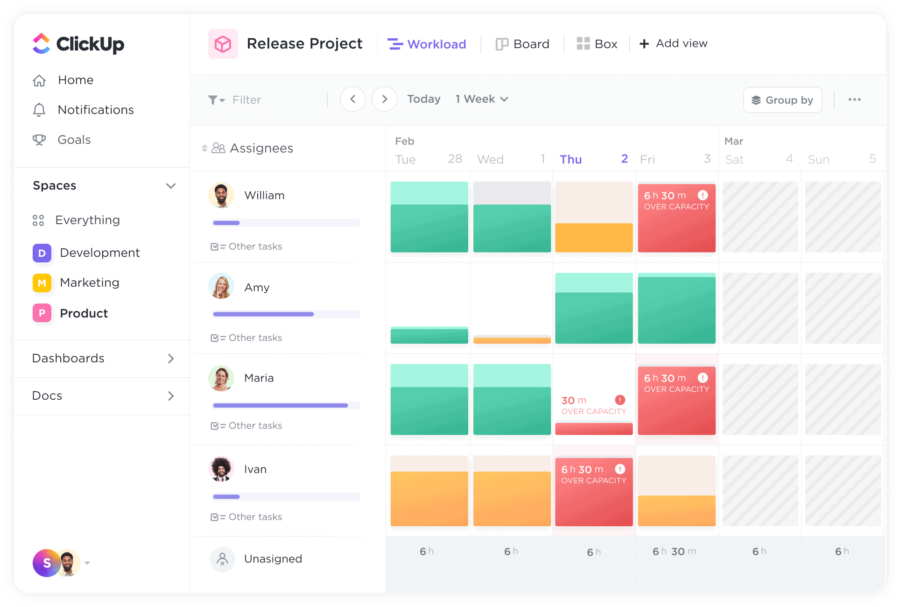 Jira was created with software development teams in mind, so it can be clunky and complicated for other teams. ClickUp is an alternative to Jira that allows basic yet powerful project management features. 
Their free version offers features like assigned comments, to-do list and checklists, simple/custom statuses, sprints, and goals. The project management software also offers native email, several templates and free integrations. Plus, if you decide to use ClickUp you can easily import your data from Jira to their platform. 
Price: ClickUp has a free plan with unlimited projects and users. Its paid plans start as low as $5/user per month.
To see how ClickUp stacks up against other tools on the market, check out our full guide to Click Up alternatives.
10. Basecamp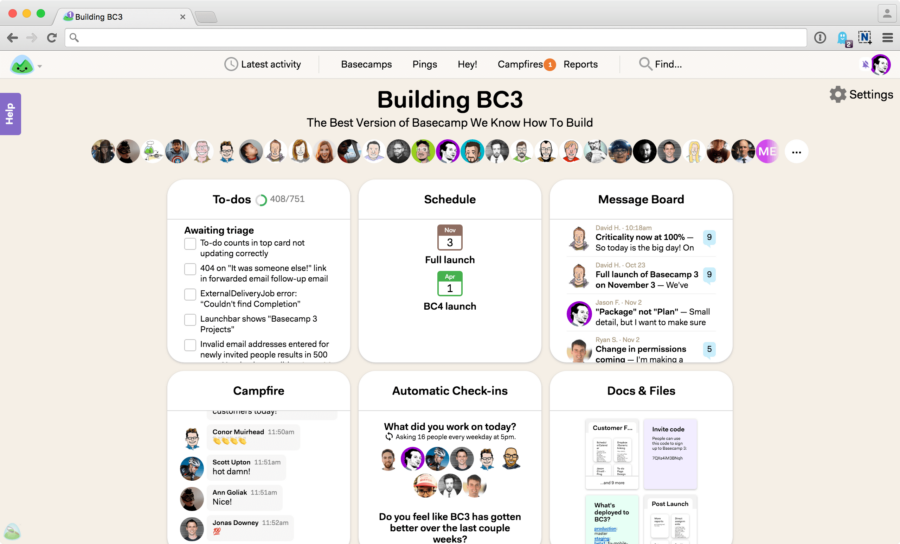 If your organization needs project management software for teams across different departments to collaborate, Basecamp is a good solution. While Jira is a robust tool for software development teams, Basecamp is a simple-to-use, no-code platform ideal for working on projects among multiple departments. The tool has templates, group chat, inbox notification, built-in time tracking, ability to assign priority levels to tasks, and generates data reports.
Price: Basecamp offers a free plan with limited features, and its Business plan has a flat fee of $99 per month. If you are unsure if this is the best free project management software for your team, check out our guide for Basecamp alternatives. 
11. Monday.com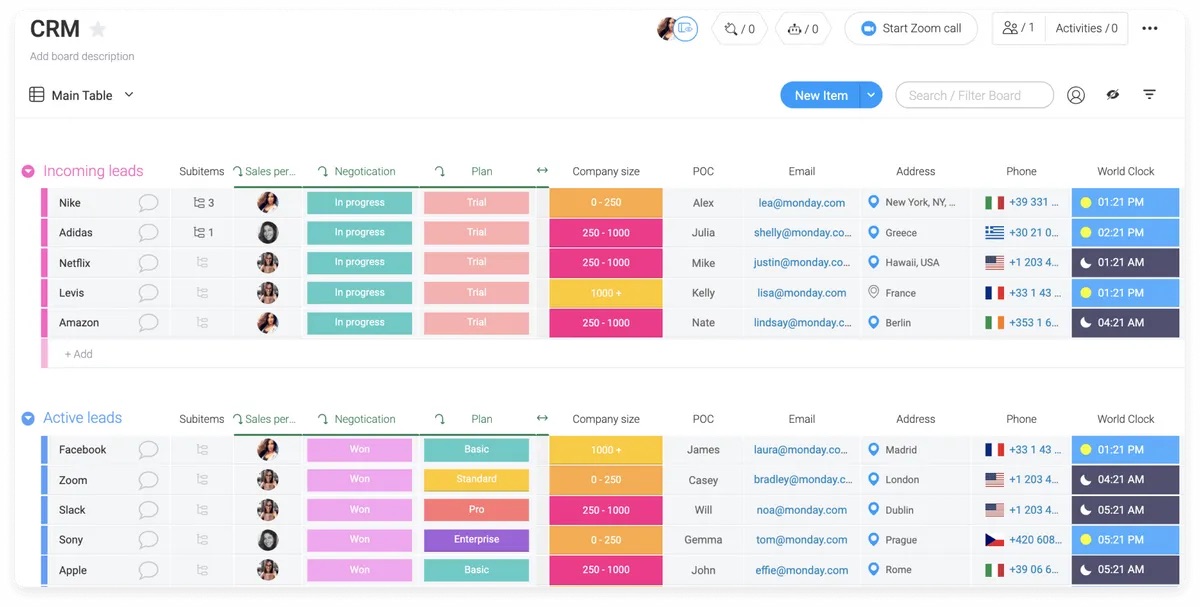 Another great choice if you're looking for an alternative to Jira is Monday.com, a project management software that offers a variety of features such as task management, dependency tracking and several app integrations, such as Slack, Asana, HubSpot CRM, as well as Jira. 
Monday.com offers native social media management and free educational webinars for all subscribers while Jira is geared more toward software developers. Monday.com has an intuitive interface with animations, pop-up text and color schemes which can be more inviting to use than Jira's sometimes confusing navigation. Additional noteworthy features of Monday.com include: boards & columns, task automation, checklists, app integration, and numerous options for views like file view, Kanban view, form view, and chart view.
Both Monday.com and Jira present to their users excellent privacy and security features such as data encryption in transit and at rest. Monday.com has a free plan for up to 2 users with some feature limitations. Basic plans start at $8/user/month. Get a 14-day free trial. 
12. Wrike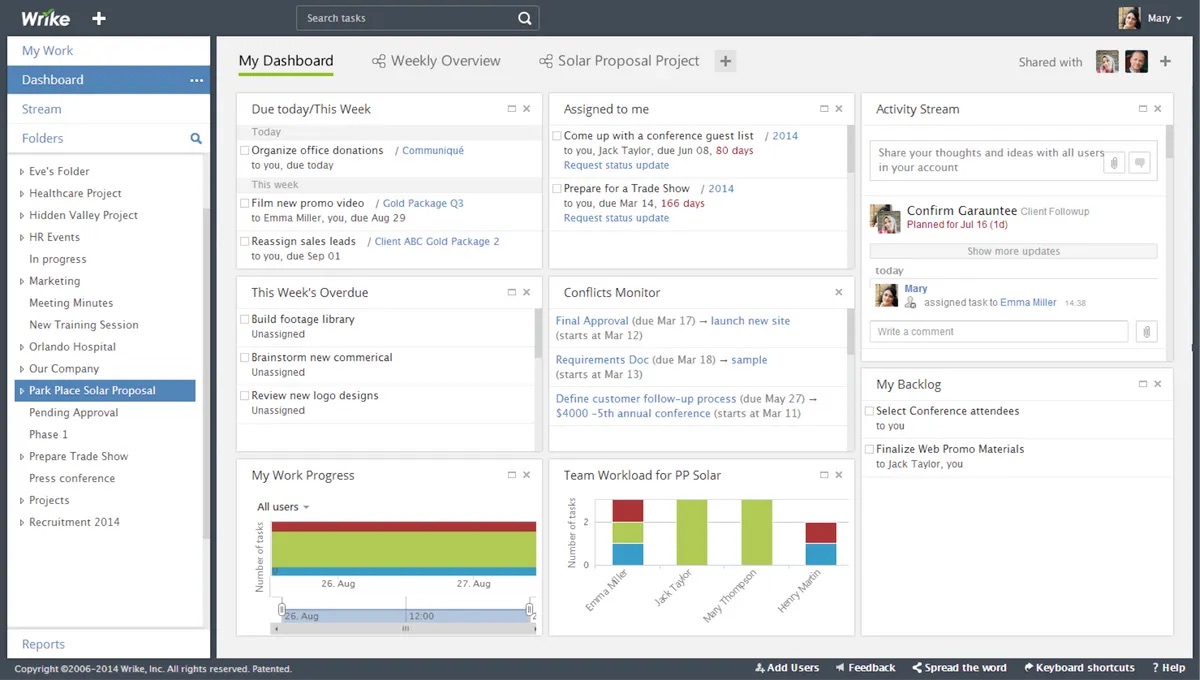 Wrike is another excellent Jira alternative to work on projects in an agile framework. The software allows you to create scrum dashboards where your team can easily drag and drop tasks automatically updating their status throughout sprints. Wrike also features Kanban boards and Gantt charts where you can visualize the workflow to see improvement opportunities. With custom workflows, task hierarchies, request forms and more, Wrike can help agile teams reach their planned goals. 
The project management software comes with several additional features such as automated workflows, proofing capabilities, resource planning and approvals. Wrike can integrate with over 400 popular apps as well as custom integrations and is accessible from anywhere with its dedicated mobile and desktop apps. 
Price: Wrike has a free plan for startups and as your team grows, they have plans starting at $9.80/user/month.
13. Trello
If your team is looking for an alternative to Jira and mostly uses its Kanban board view, Trello might be the solution you've been looking for. Trello is a project management software that utilizes Kanban boards, lists and cards as its key ingredients to give you a flexible overview of projects and tasks. Trello is an intuitive tool, its no-code automation features help you optimize the time spent on repetitive tasks. Additionally, Trello allows you to invite new members to collaborate in your workspace, track tasks, and use color-coded labels for organization. 
Price: One of the advantages of Trello vs Jira is the fact that Trello can be used in the freemium model, while Jira's plan starts at $10/month. Both solutions are built by Atlassian, so integrations and migration shouldn't be an issue. One thing to keep in mind is that Trello doesn't offer time-tracking, project and issue tracking and only has 30 integration partners, while Jira offers about 100. Trello has a free version, and its paid plans start at $5 per user/month.
14. Nifty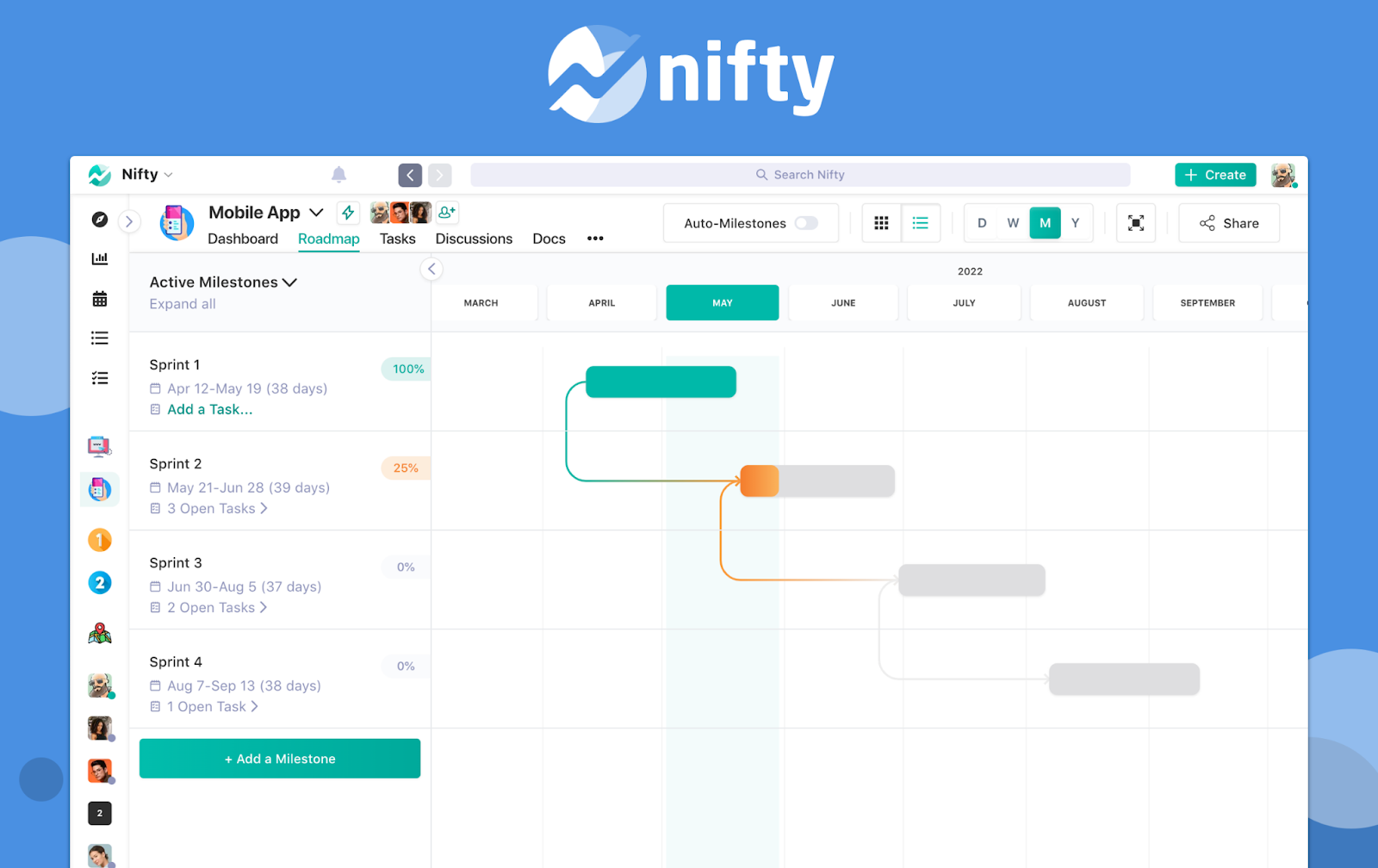 When looking for Jira alternatives, Nifty can be a great solution for your project management needs. It offers all task and timeline features you'd expect from a project manager combining communication features in one single dashboard. 
Collaboration extends into document creation (including two-way synced Google docs) as well as Guest role for teams who want to bring external members, such as freelancers or clients. One of the down points of Nifty in comparison to Jira, is that Nifty doesn't offer a lot of integrations. The app supports however, Gmail, Google Calendar, Google Drive, and a few others.
Price: Nifty has a free plan with limited features and its paid plan starts at $5 per member, per month.
15. Smartsheet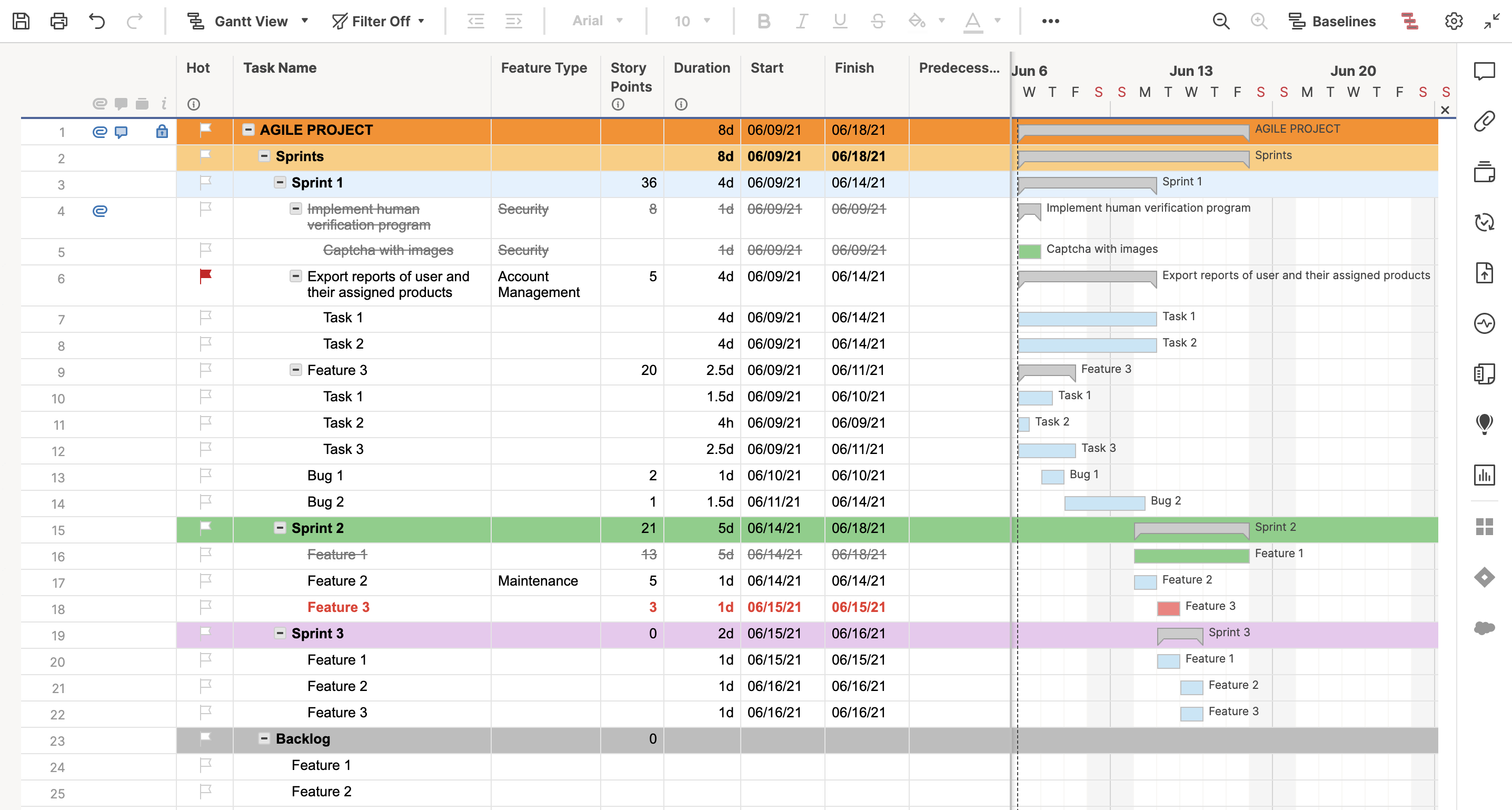 Smartsheet is another noteworthy alternative tool to Jira. Its wide range of features and functionalities provides a comprehensive solution for managing agile projects. The platform offers customizable Kanban boards that help teams to visualize and track their work while maintaining transparency and optimizing workflow.
In addition to Kanban boards, Smartsheet offers powerful Gantt chart capabilities, essential for planning and scheduling agile projects. The Gantt chart visually represents tasks, timelines, and dependencies, allowing teams to manage resources, allocate tasks, and monitor progress effectively. This level of visibility and control enables teams to stay on track and adapt to changes efficiently.
Price: Smartsheet offers a free plan for one user and up to two editors. There's a Pro plan available for up to 10 users for $7/user/month and a Business plan that gives access to unlimited users for $25/user/month.
If you are working in Agile, and you are using another tracking platform that we missed above – we would love to hear about it.